Video surveillance camera systems have come a long way in the past few years, and there are now plenty of high-quality options ranging from 1080p to 4k available for businesses of all sizes. Whether you're looking to keep an eye on your property, track the activities of employees, or monitor your business's security footage, upgrading to a high-resolution system is a good investment. Here are some resolution differences between camera systems and their image quality:
Types of Video Camera Resolutions and Their Qualities:
Although there are many different camera resolutions, these four are most prominent in security cameras. The higher the pixel count, the better the image quality.
Analog Cameras: Have you ever seen those grainy camera videos that make it difficult to focus on anything? Well, that's an analog camera with a max resolution of up to 720 x 480 pixels.
1080p Cameras: They have a 1920 x 1080-pixel resolution and are the most commonly used for residential security purposes the past few years.
2k Cameras: These are becoming more popular for business use, offering a resolution of 2560×1440 pixels.
4k Cameras: They have a resolution of 3840 x 2160 pixels. A great option for those who want the best video quality and every single detail captured in the video feed.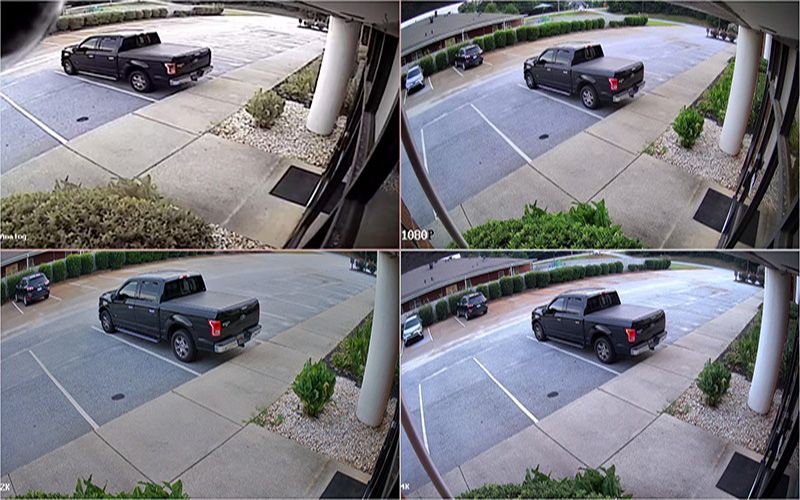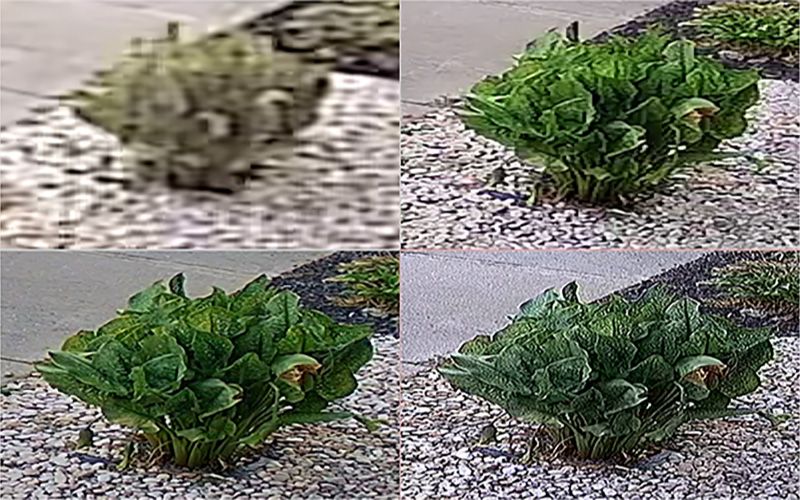 The images show the following cameras: Analog (top left), 1080p (top right), 2K (bottom left), and 4K (bottom right) image resolution side by side, and you can really see the difference!
Why Upgrade Your Surveillance Camera Resolution?
Better Focus: The first reason to upgrade your surveillance camera resolution is simply the higher the resolution, the better your camera will be able to focus on objects. This is important because if your camera is not in focus, it might miss some details, and your footage may look blurry.
Sharper Quality: A higher resolution also means more pixels, which allows the camera to create a better image. The higher the video resolution, the clearer and sharper the footage will be. Plus, a higher pixel count represents the amount of details that your camera can capture, such as faces, objects, and colors.
Better Employee Accountability: High-resolution security cameras (ideally 4k) at your goods manufacturing area, sales counter, restaurant kitchen, or someplace where goods are prepared will ensure strict quality control. Your staff will know every single detail and movement is being recorded, so they'll be more careful when working.
Prevent or Catch Theft: A 4k camera that catches every single detail and is also equipped with technologies like night vision and thermal imaging becomes a nightmare for thieves and intruders. Their chances of getting caught go through the roof if the footage is clear and crisp.
TELECO Offers Cutting-Edge Video Surveillance Systems With Up to 4K Image Quality:
TELECO is known to offer cutting-edge solutions to meet commercial security needs. We are among the few companies in the country offering a complete security solution that includes 4k cameras, thermal imaging, night vision cameras, IP cameras, HD DVR systems, motion sensing cameras, audio recording cameras, and more.
Plus, we offer a complete suite of professional services, including installation, maintenance, and repairs. So call us today to turn your business place into a digital fortress with ultra HD video surveillance.