The world of business has changed drastically over the last year. More businesses are now seeing the enormous benefits of providing employees with remote work options to keep their business running smoothly and allow continued innovation and productivity.
Remote Work Tools Your Business NEEDS
Every business needs access to the remote work solutions best suited for their needs. TELECO provides an array of options to help your remote workforce easily stay connected and productive no matter where they may be.
Cloud-Based Voice Communication: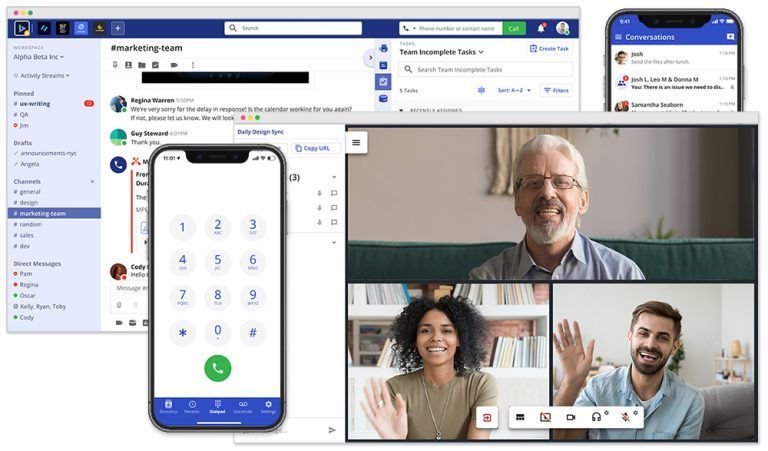 Voice Communication is the foundation of how every company does business. Now you have the option of a hybrid cloud-based system, which requires a small piece of hardware to be placed in your office connecting your voice communication to the cloud or a pure VoIP system which requires no hardware on your premise.
You can leverage the power of a superior VoIP solution which offers easy deployment wherever you need, coupled with enhanced voice quality, reliability, and flexibility.
Video Meetings:
Allow your workforce to host or join online meetings through their favorite browser on any device.
Whether they are sitting in the office or at a remote location, video meetings allow them to have one on one or group conversations, share content such as video clips, audio, documents, presentations and more, share screens, and manage multiple attendees via a virtual lobby.
Text Messaging:
Video calls and voice messaging are not always ideal; sometimes, a simple text on the go is all your employees may need.
Text messaging can now provide a seamless two-way communication option using an employee's desk phone number or other designated number from a mobile device. Texting can also allow attachments and hyperlinks to be sent.
Collaboration:
Another essential part of communication. Whether your team needs to brainstorm ideas, discuss details of a project, or define clear targets and action steps, you can now provide them a tool that allows them to collaborate from their home or mobile office.
It can allow both individual and group chat channels, audio/video conferencing, file sharing and organization, and other tools to boost productivity while collaborating.
Team Hub:
An all-in-one platform designed to provide your employees a single place to communicate and collaborate. Team Hub will act as the nerve center for your team operations.
Separate channels and groups for different teams within your organization and the ability to exchange messages or have calls on the go will ensure there is no gap in communication.
Fax:
Fax is still an important technology to many businesses; it is the number one solution for sending and receiving physical documents with maximum security. Businesses like yours now have several options for faxing, including digital, analog and even mobile.
With these new options, you can now integrate cloud-based faxing into your existing remote work solutions.
TELECO Can Equip Your Business with the Best Remote Work Tools:
We can help you implement remote work solutions tailored to your business's specific needs. We have easily customizable cloud-based audio, video, text, and group communication solutions coupled with team hub and digital fax tools.
Feel free to get in touch with us to discuss remote work solutions that will ensure positive remote employee experiences for your business success.