Public Safety DAS utilizing BDA* technology provides enhanced two-way radio service via an antenna system. This ensures that our first responders can maintain wireless communications within a building during medical emergencies, fires, natural disasters and other life-threatening events.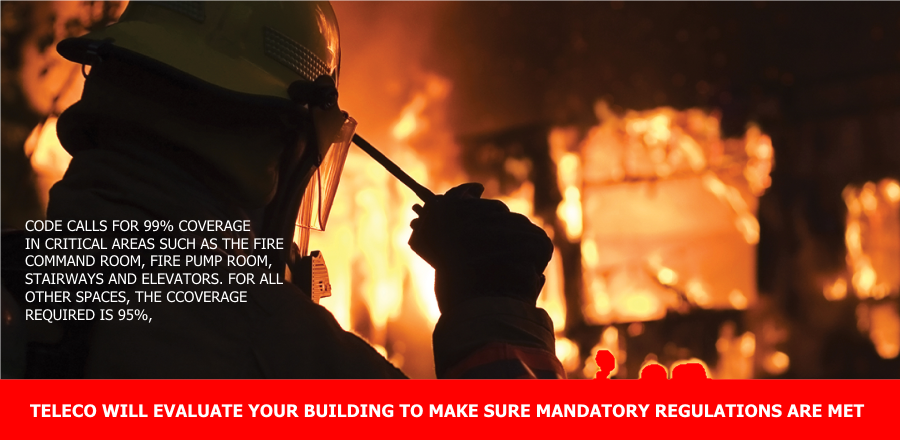 There's good reason that in many areas BDA's are now a CODE DRIVEN REQUIREMENT. During 9/11, firemen and police officers couldn't communicate properly inside the World Trade Center. This triggered changes to the IFC and NFPA codes greatly improving communications for first responders ensuring their radios work wherever they go.
* A BDA (Bi-Directional Amplifier) is an in-building communication system that brings wireless signals into the structure from outside, amplifies those signals with a signal booster, and then evenly distributes the amplified signals via a Distributed Antenna System (DAS).
Many cities and counties in the US have enacted local ordinances and codes making in-building coverage for first responders mandatory. With these regulations every new building must meet a minimum level of first responder communication reliability as a condition for occupancy. It is the responsibility of the building's owner or operator to have their building tested by a certified Public Safety DAS professional. If required, they must have a system installed and ensure it passes all code specifications. The counties of Palm Beach, Broward and Miami-Dade are requiring new building owners to provide uninterrupted radio coverage for police and fire departments. FBC, NFPA and IFC codes require the retrofitting of many buildings to meet certain criteria.
| | |
| --- | --- |
| FLORIDA BUILDING CODE: 2-WAY RADIO COMMUNICATION ENHANCED PUBLIC SAFETY DAS | (...) Public Safety Signal Booster shall be installed as per NFPA 1-11.10. NFPA 70 and NFPA 72. Any such system installed on or after April 1st, 2016 shall be adaptable for 700/800 MHz P25 (association of public safety communications officials, project 25). The Installation and Wiring shall comply with the local municipality Building and Fire Departments permitting process and shall be approved by the local and county FCC Licensee prior to installation. The building owner shall install a public safety signal booster to meet this requirement if so directed. (...) |
Why Teleco Public Safety DAS?
Our FirstNet™ compatible and scalable systems are trusted by the professionals that depend on them when responding to an emergency. Our team of Public Safety DAS engineers will install a system that complies with the first responder radio coverage requirements.

TELECO, a leader in combined technologies, is registered with the Federal Communications Commission (FCC). We work closely with the Authority Having Jurisdiction (AHJ) and fire professionals to provide an approved system that meets their requirements. We test a building with industry calibrated equipment to gain an understanding of the signal strength and we target only areas needing enhancement in order to keep costs to a minimum. We use manufacturer-trained, certified installation and commissioning technicians to design Public Safety DAS utilizing tools such as AutoCAD® and iBwave®. Additionally, we serve as the owner's representative and interact with other trades.
DEADLINES ARE NOW IN PLACE MANDATING TESTING BY 2019 AND TOTAL COMPLIANCE BY THE END OF 2021 FOR EXISTING BUILDINGS. CONTACT US TO EVALUATE YOUR BUILDING PRIOR TO RECEIVING A NOTICE OF VIOLATION FROM THE FIRE INSPECTOR. 2016 FLORIDA STATUTE, CHAPTER 633.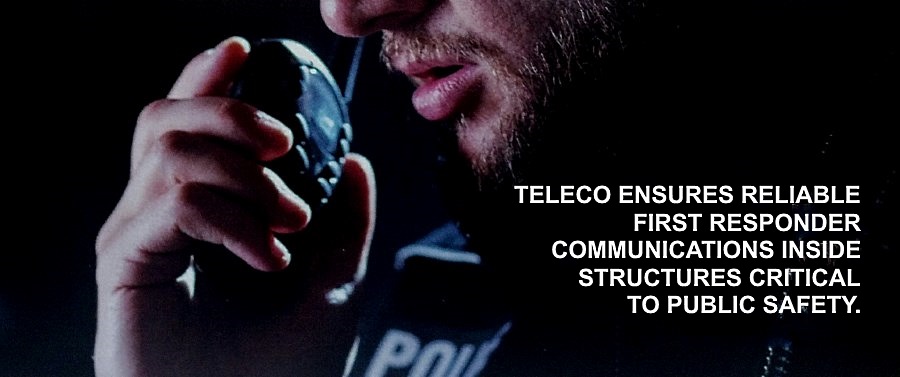 ABOUT TELECO
Founded in 1981, TELECO is located in Greenville, SC. TELECO offers Cellular and Public Safety DAS, Unified Communications as a Service, Business Phones, TELECO's Perfect View™ Video Surveillance and Building Access Control, Structured Cabling and Managed IT. With over 350 Authorized Dealers and 2000 Affiliates across North America, you can rest assured that you are in good hands with TELECO.